29.10.2021 - 11:21
Strong upswing continuing for grinding technology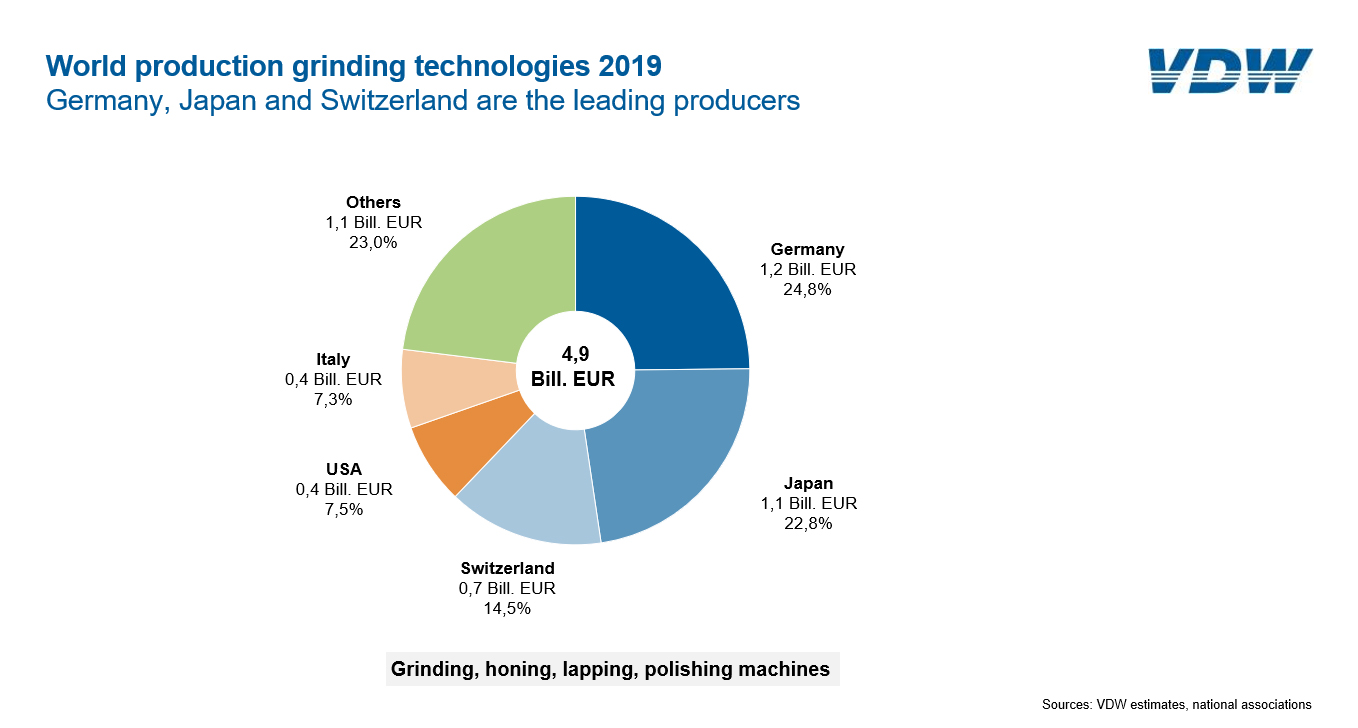 "There was a clear return to growth for grinding technology in the second quarter," said Dr. Wilfried Schäfer, Executive Director of the VDW (German Machine Tool Builders' Association) in Frankfurt am Main, commenting on the latest figures. Undoubtedly, the excellent comparative figures were largely attributable to the weak performance in the previous year caused by the pandemic. "Nevertheless, the industry has already returned to the pre-Covid levels from 2019 in terms of new orders. Even in the crisis year of 2020, Germany was able to defy the severe slump and come out on top in the world production and export rankings – ahead of China, Japan and Switzerland," said Schäfer.
The figures give cause for optimism with regard to the future development of the industry. Key markets such as the USA and Italy in particular enjoyed strong growth. In addition, exports to India, Brazil and Mexico increased by between 75 and 318 percent. By contrast, China, the largest sales market, saw exports shrink by a further 27 percent year-on-year in the first six months. Schäfer went on to summarize: "We have not yet returned to the high levels seen before 2020, which we naturally want to reach again. But we are clearly on the right track."
Meanwhile, preparations for the GrindingHub are in full swing. Under the banner of "Brings solutions to the surface", the new trade fair for grinding and tool grinding technology will be opening its doors for the first time from 17 to 20 May 2022 in Stuttgart. The latest economic figures provide a further boost for the event. "The GrindingHub scores with its international orientation and an attractive location that is easily accessible from all over the world. However, we are also looking to set standards with the fair program, including the special exhibition GrindingSolutionPark and our innovative web sessions. But of course the trade show will stand and fall by the strength of its exhibitors and by the successful industry behind them," concluded Wilfried Schäfer from the VDW.
Author: Tobias Beckmann, online editor, VDW
Image copyrights:
image01/grindinghub-22-techniktrends-schleif-hon-laeppmaschinen.jpg: VDW
image02/grindinghub-22-techniktrends-weltproduktion-schleiftechnik-de.jpg: VDW
back to overview