30.11.2021 - 11:22
Strong third quarter for grinding technology exceeds 2019 order levels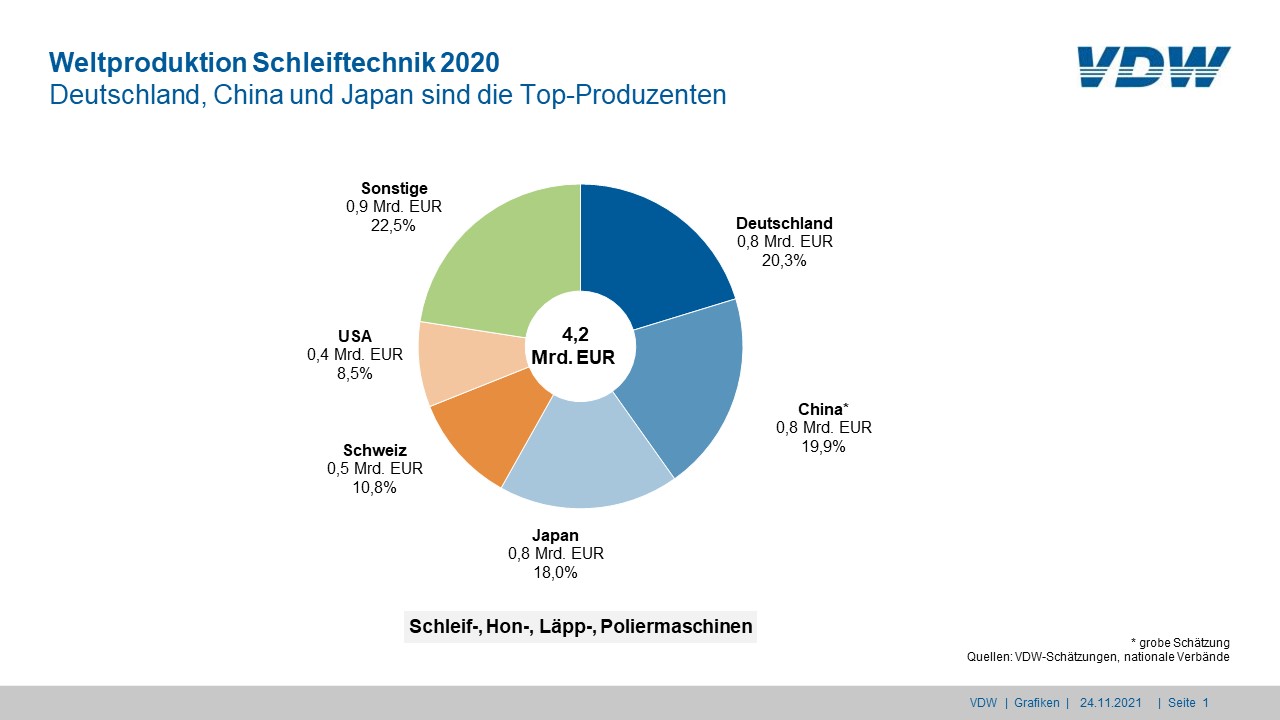 This continues the positive trend which began in the first half of 2021. One of the main contributory factors is the healthy levels of orders received from abroad. "Orders from the euro zone were the first to show particularly strong growth in the second quarter. Non-European countries then caught up in the third quarter, with an increase of over 100 percent compared to the same period last year," says Dr. Wilfried Schäfer, Executive Director of the VDW, commenting on the current development. "Accounting for sales of almost 50 million euros in the first three quarters, the USA is our second most important export partner worldwide, and is one of the largest importers of German grinding technology." Overall, the industry posted a 41 percent increase in orders in the first three quarters. This even exceeds the 2019 pre-Covid level by 9 percent.
Italy, Austria, Turkey and India are also emerging stronger from the crisis. Export sales to these countries grew between 9 and 108 percent in the first three quarters of 2021 compared to 2020. But there are also losers among Germany's ten top export partners by sales: France, for example, posted a drop of 54 percent, reducing the value of its trade by more than half. China also continues to weaken, but remains in first place as the most important country for sales at 122 million euros. In terms of imports, on the other hand, Japan, Thailand and China posted significant increases in their deliveries to Germany, albeit with relatively small volumes. Switzerland, however, is the undisputed leader with its 38 percent share.
"The grinding technology industry is weathering the Covid crisis exceptionally well. After the slump last year, the economy is not only growing again, it is even surpassing the figures for 2019 in terms of new orders. This is sending out an extremely promising signal – both for the industry and for GrindingHub, the new trade fair for grinding technology in Stuttgart," Schäfer summarizes. Under the banner of "Brings solutions to the surface", the trade show will open its doors for the first time from 17 to 20 May 2022. By the time the registration phase drew to a close at the end of September, over 260 companies had secured a place at GrindingHub. Now the VDW trade fair team is moving to the next phase and beginning with the planning of more than 14,500 net square meters of exhibition space in three halls. This corresponds to approximately 30,000 gross square meters. "Of course, all those who are interested but have not yet registered will still be able to exhibit in Stuttgart in May 2022. We will therefore be staying in close touch with the companies," adds Schäfer in conclusion.
Author: Tobias Beckmann, Online Editor, VDW
Image copyrights:
image01/grindinghub-22-konjunktur-quaretal-3-folie2.JPG: VDW
image02/grindinghub-22-konjunktur-quartal-3-folie1.JPG: VDW
image03/grindinghub-22-konjunktur-quartal-3-folie3.JPG: VDW
​image04/grindinghub-22-konjunktur-quartal-3-folie4.JPG: VDW
back to overview